The featured SA surface allows for quick osseointegration by promoting a faster healing time.
Every ET System dental implant has a Sand-blasted and Acid-etched (SA) surface to give you optimal morphology. This feature provides the available surface area by 45% in comparison to a Resorbable Blast Media (RBM) surface. Additional advantages include bone healing 20% faster and a decrease in loading times.
Hiossen SA Surface Treatment
Sand Blasted with Alumina and Acid-Etched
ET SA Implants features an SA surface treatment that fully exploits the excellent pluri-potential capacity of osteoblastic cells. It shortens the bone healing time, and improves the secondary attachment force. 
In addition, SA surface is adopted to have a convenient placement and primary stability due to its optimal body design.
Characteristics of the SA Implant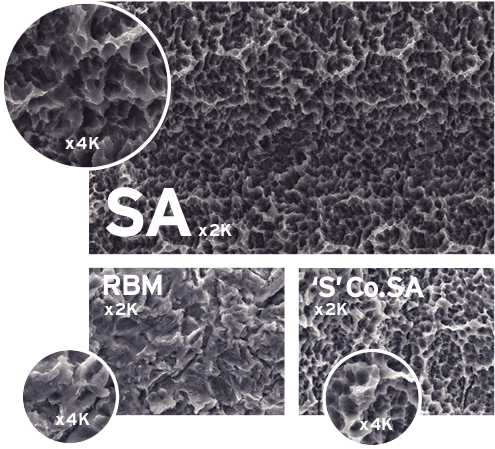 Combination of craters and micro-pits.
Optimal surface roughness