Are you curious about what teeth implants are made of and what they are in general? Essentially, dental implants are the next best thing to natural teeth. They are becoming increasingly popular as orthodontists and dentists use them to give their patients a happy and healthy smile. Those with dental implants can laugh, chew and talk as though they have natural teeth.
What are tooth implants made of? Check out our guide below to learn more about the various types of materials professionals use to construct dental implants.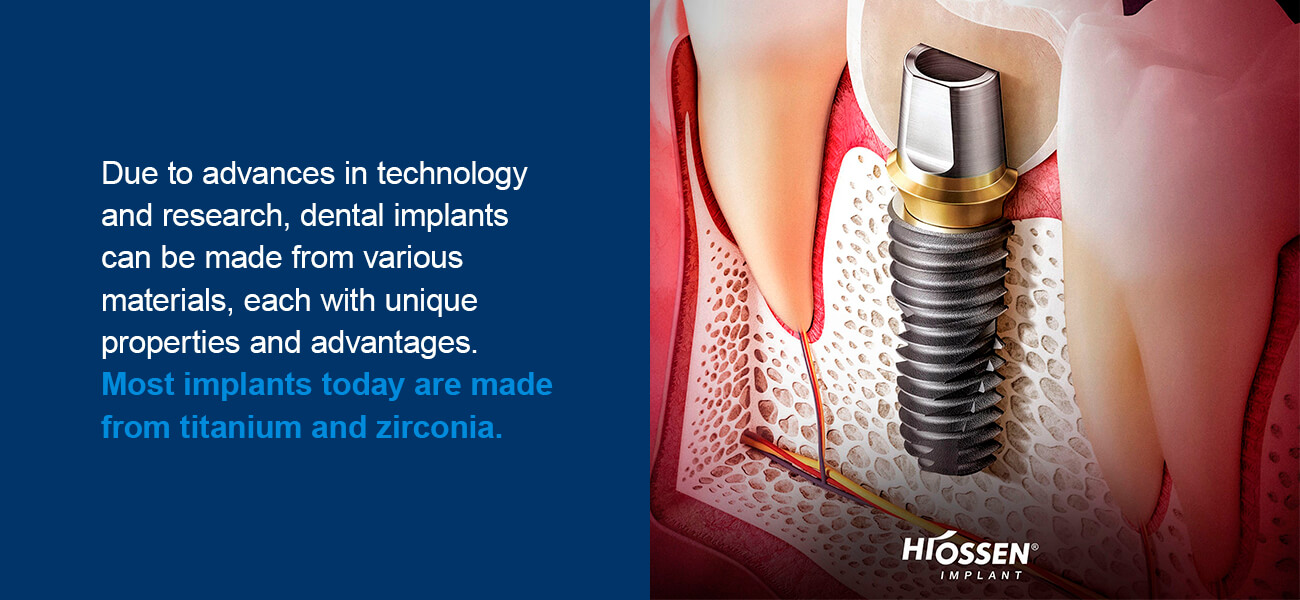 The Most Common Types of Dental Implant Materials
Due to advances in technology and research, dental implants can be made from various materials, each with unique properties and advantages. These materials are resistant to corrosion and fracturing so the implants will be long-lasting and durable for the patient. Most implants today are made from titanium and zirconia.
Why are dental implants made of titanium or zirconia?
Titanium: Titanium is the most commonly used material for dental implants because it can create a permanent fixture with bone. This material is one of the most sought-after metals for dental implants due to its durability and ability to provide long-lasting replacement solutions for a reasonable price.
Zirconia: Zirconia is a more recent discovery for dental implants and has proven to hold a lot of promise. This material might be preferable for those who have a metal allergy and cannot use titanium. Zirconia could also help make the surgical process a bit easier due to its one-piece construction compared to the three pieces of titanium.
As researchers continue studying many alternative materials, titanium remains the "gold standard" for implant materials due to its strength and resistance to wear and corrosion, making it the ideal replacement solution.
Construction of the Dental Implant
Successful dental implants can function the same way as other natural tooth roots, keeping the artificial tooth stable. Implants must have a strong foundation and be durable enough to handle certain activities, such as chewing and brushing the teeth. There are generally three phases to the construction of a dental implant:
Surgical placement: The first step is for a dentist to place the implant in the upper or lower jaw surgically. The implant will then act as a sturdy foundation for the replacement tooth.
Integration: The implant will then need time to integrate with the jawbone. This process is why titanium is a popular material — it easily fuses with the bone. Essentially, the bone around the implant will heal and grow, making it strong and holding it in place. This process is also called osseointegration.
Placement of the dental crown: Finally, the dentist will place an artificial tooth that will blend in with your other teeth, called a dental crown. What are dental implant crowns made of? They can be made using porcelain, composite or a type of metal. The crown goes on top of the implant to keep it in place.
The construction of a dental implant could take several months depending on how quickly the jawbone heals around the implant and how long it may take to customize a dental crown for the patient. However, the patient will have an excellent replacement for a missing tooth at the end of the process.
Are There Alternative Materials for Dental Implants?
While titanium and zirconia remain two of the most popular implant materials, a variety of other materials can sometimes be used to create dental implants. These options are not as standard at this point in time, but they are worth noting if you are curious about all of the possibilities surrounding dental implants.
Here are a few examples of alternative dental implant materials:
Polymers: Polymers, such as polymethacrylate, are biodegradable and could be ideal for replacing teeth since their composition can be easily altered, allowing for a more aesthetic appearance. Some disadvantages are that they are not as durable as other materials due to their inferior properties.
Ceramics: Some ceramics, such as carbon-silicon, could also be used in dental implants. They have both durable and robust properties, which could make them ideal for implants. They have some brittle properties, limiting their ability to be a long-lasting solution for tooth replacement, so their use in implants is limited.
Alternative metals: Other metals that could be used for dental implants are stainless steel, gold and cobalt-chromium. While these have many favorable properties such as resistance to corrosion and durability, they have lower success rates than other metals such as titanium and zirconia.
While there are several alternative materials for dental implants, many of them have a lower success rate than titanium and zirconia, which means professionals will not use them as often.
The Future of Dental Implants
Dental implants are some of the most popular options to replace missing teeth. With their popularity only increasing, professionals continue to research dental implant materials and processes to improve the procedure for future patients. Additionally, as technology advances even further, dental professionals may develop new and improved ways to shorten the dental implant process and improve comfort and durability for patients.
Researchers believe that the increasing demand for implants will cause the global dental implant market to reach $13 billion by 2023. With an influx of new patients, dental professionals will also need to account for other factors, such as allergies and medical conditions, that could affect the implant integration process. Clinicians hope to offer alternative dental implant materials and procedures to give patients several options that will suit their individual needs.
While the construction and use of dental implants have come a long way, the future is likely to be filled with alternative solutions that improve dental implants. For example, it could be possible to use stem cells in the implementation process. In general, we can expect to see innovations in this field in the years to come.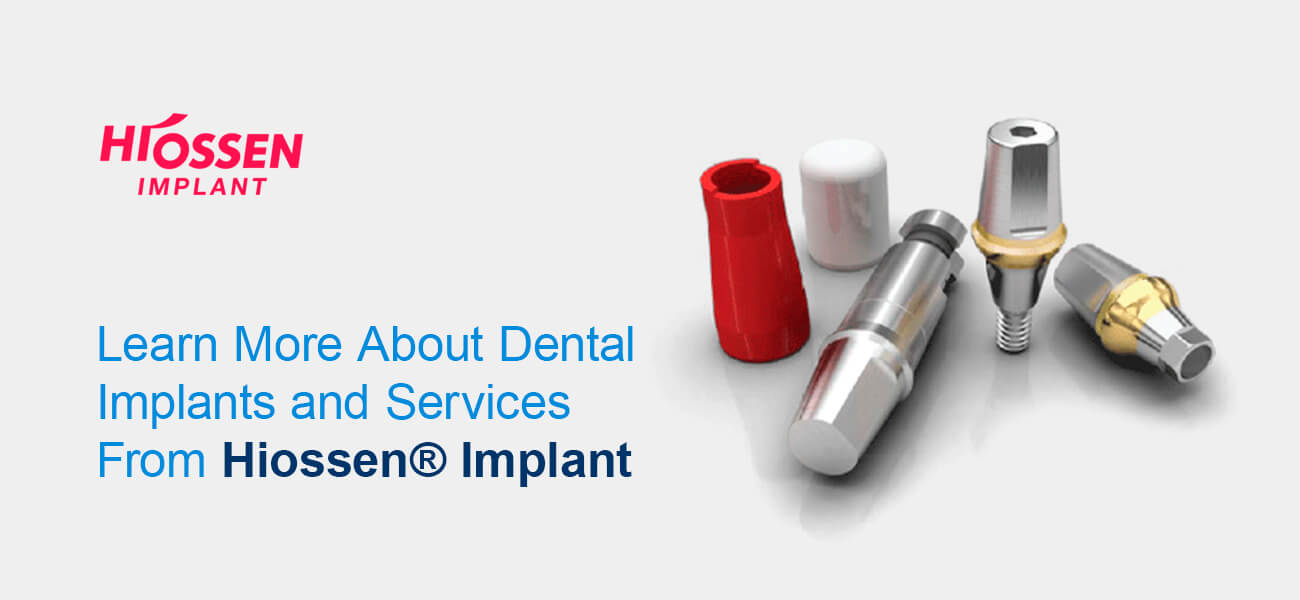 Learn More About Dental Implants and Services From Hiossen® Implant
Dental implants can be life-changing for patients. They boost confidence and can help with daily activities such as laughing, eating and talking. At Hiossen Implant, we offer a variety of dental implant solutions constructed using the latest technology and the highest quality materials. As a leader in the dental community, we are proud to offer dental implants that can give patients a smile that lasts a lifetime.
Contact our team to learn more about the innovative products and services we offer.