Promoting Your Dental Practice to Potential Implant Patients
How do you convince a patient for dental implants? People want to feel comfortable about the dental practice they choose to handle their dental implant procedures. They want satisfactory service from start to finish and results they feel good about. But more than that, people want a dentist they can trust.
Achieving patient trust is worth the extra effort needed to receive it. Knowing how to advertise dental implants to establish trust may seem tricky at first, but it's possible with the right marketing campaign. Learn how to promote your dental practice to gain the trust of potential patients.
How to Approach Dental Implant Marketing
To reach more patients, you'll need to engage in dental implant promotion. This is the process of advertising your business so people who need dental implants know you're an option. More than that, you want to convince potential patients that you're the best option for them. Advertising is a touchy art that uses few words to convince people to click on your ad to find out more information about your product or service.
As you plan your dental implant marketing campaign, you should create a goal that looks beyond trying to get more implant patients. Your promotions should work toward gaining an individual's trust within the few seconds they spend looking at the ad. And since the internet has become one of the most popular places for businesses to advertise, you'll need strong ads to separate yourself from the crowd.
And finally, you need to focus your efforts. Promoting your New Jersey implant dental practice in California won't do you much good. Instead, understand who your intended audience is and where they live their lives. This will give you a good start on your ad campaign and help you find potential patients who are more likely to click on your ad for more information.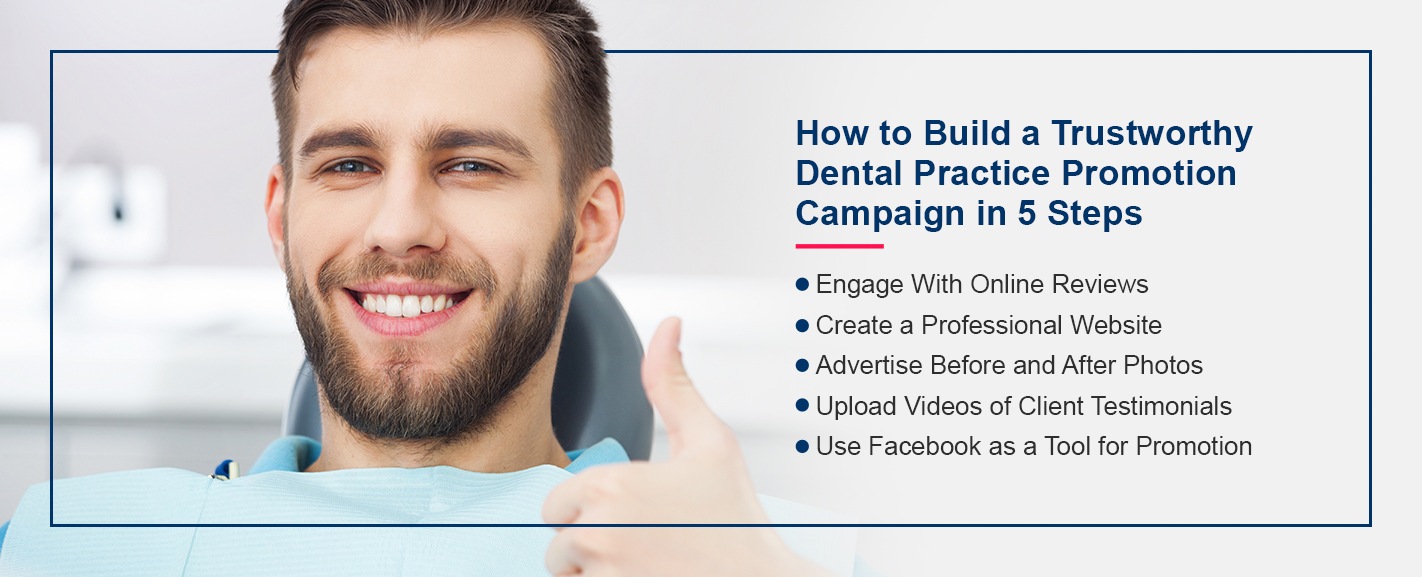 How to Build a Trustworthy Dental Practice Promotion Campaign in 5 Steps
Building trust should be your primary goal as you look for dental implant digital marketing ideas. The following five steps should help you on your mission to gain the trust of potential implant dental patients.
1. Engage With Online Reviews
In 2020, 87% of consumers checked online reviews for local businesses when researching a product. This shows that online reviews are a trusted source of information for people making purchasing decisions. Keep track of the reviews people post about you to make sure negative reviews aren't ruining your online reputation.
Many online review sites allow the business to respond to reviews. You can take advantage of this feature by engaging with review writers. Thank the people who left positive reviews and tell them it was a pleasure providing their dental implant needs. Ask the people who left negative reviews what you can do to make their experience better next time. This will show that you care about customer experience which is a step toward gaining trust.
2. Create a Professional Website
People can say whatever they want about you online. That's why you need to create a professional website. You can display the facts about your dental practice that show you're the best choice in the area. Make sure the website is easy to navigate. Include information about your credentials and your biography. That way people can start putting a face to the name and get a feel for what you're like.
You can also use your professional website as an opportunity to brag a little. Talk about any awards, honors or recognition you've received in your time providing implant dental care. Potential patients will trust you and your work more if they can see that valid third parties have recognized your achievements.
3. Advertise Before and After Photos
Your website and your online advertisements need to prove that you have the skills to deliver high-quality results to your patients. A great way to do this is by showing before and after photos of implant dental procedures you've performed in the past. Get the consent of the individuals you wish to use for the images, and let your work speak for itself.
Seeing these images will inspire others to take the next step in receiving implant dental treatment of their own. Before and after images can give confidence to potential patients who might be on the fence. Seeing the quality of your work will help people develop trust in your abilities.
4. Upload Videos of Client Testimonials
Customers trust the words of other consumers when considering a product or service. People know that some business owners might talk up their services to make a sale. Instead of proclaiming how great you are, let existing customers tell potential customers about the services you provide. You can do this with patient testimonial videos.
Testimonial videos are powerful because they allow new customers to see patient results while hearing about their experiences. They'll trust past patients because they can see the visual results to back up the claims. And as patients praise you and your dental implant services, viewers will develop more trust for you and your practice.
5. Use Facebook as a Tool for Promotion
A 2019 study showed that 69% of adults in the United States use Facebook. That same study revealed that nearly 3 out of 4 of these Facebook users check the site every day. Their reasons include entertainment, communication and getting the latest news updates. This makes Facebook a prime website for advertising. You'll need some good dental implant social marketing ideas to reach these Facebook users.
Use Facebook's advertising tools to promote your dental practice to potential implant patients. Use your existing patient records to see where most of your clients are coming from to localize your ads. Describe your practice and what you can provide to new patients, and include images like before-and-after pictures. Make sure to respond to comments and messages on your posts. Showing you care about people's thoughts and opinions by staying active on social media will help you built patient trust.
Show New Customers Your Commitment to Quality With Products From Hiossen® Implant
Earn patient trust by promoting a commitment to quality within your dental implant practice. At Hiossen Implant, we create high-quality dental implant products using the latest technology to offer a better patient experience. We aim to provide your dental practice with products that shorten surgery times and allow for quick mastery of procedures. This will help you provide better services to your patients, leading to increased confidence in your practice, which is crucial in the dental field.
Browse our national and international locations to find Hiossen products near you. We look forward to helping you gain the trust of new patients by providing you with high-quality dental implant products.